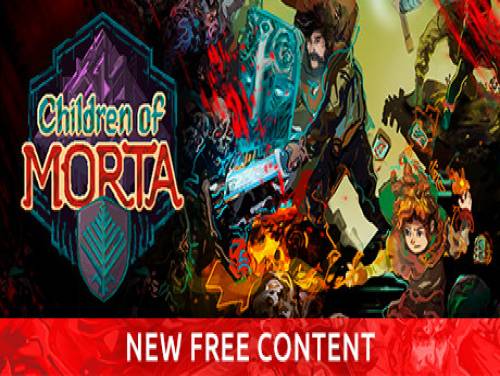 Willkommen bei Apocanow! Dieser Artikel spricht über Cheats und Codes des Spiels Children of Morta und sammelt darin das gesamte Videospielmaterial zu diesem Spiel, insbesondere auch Trainer, Erfolge und mögliche Lösungen.
Sie sind vielleicht nicht alle! Wenn Sie etwas neues gefunden haben, kontaktieren Sie uns bitte oder kommentieren Sie diesen Artikel und wir werden Ihr Material gerne dem vorhandenen hinzufügen.
Children of Morta ist ein action-rollenspiel basierend auf der geschichte von einer außergewöhnlichen familie von helden. Hilfe, die Glaubte, sich mit all ihren fehlern und tugenden, gegen die drohende Korruption. Sind sie in der lage, alles zu opfern, um menschen zu retten, die ihnen wichtig sind?
Dieses Spiel wurde auf 03/08/2019 veröffentlicht und die Cheats, die wir besitzen, sind gültig für PC / PS4 / XBOX ONE / SWITCH Diese Liste wird mit der Zeit aktualisiert, wenn wir die Existenz neuer Konsolen bemerken, auf denen Children of Morta war veröffentlicht.
Entdecken Tipps, Cheats, Codes und Tricks für Children of Morta (PC / PS4 / XBOX ONE / SWITCH): Unbegrenzte gesundheit und Unbegrenzte ausdauer.
Zusätzlich zu den Cheats können wir dir auch die Lösungen dieses Spiels in Form eines Videoguides anbieten. Gib die Lösungsseite von Children of Morta und Sie werden in der Lage sein, eine Schritt-für-Schritt-Anleitung zu finden, um das Spiel und oft auch die Sammelobjekte zu beenden.
Children of Morta hat auch einen Promo-Trainer verfügbar. Wenn du ihn während des Spiels herunterlädst und ausführst, erhältst du neue Features, normalerweise zusätzliche Cheats, die auf keine andere Weise verfügbar sind.
Unter den Cheats findest du auch die Liste der Ziele für dieses Spiel mit einer kleinen Erklärung, wie man sie alle bekommt.
Die Einführung ist vorbei, hier sind die Cheats für dieses Spiel.