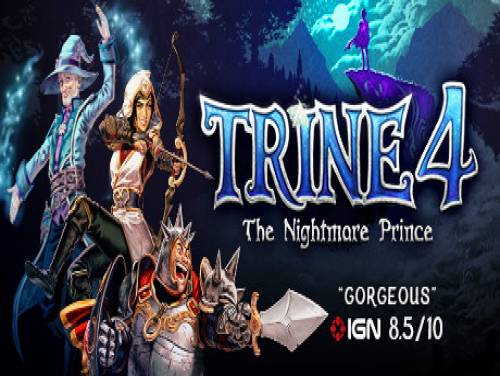 Willkommen zu dem Artikel auf dieser Seite, der mit den Cheats und Freischaltbars von Trine 4: The Nightmare Prince verbunden ist. Alle Geheimnisse, die wir über dieses Spiel wissen, sind auf dieser Seite zu finden.
Wenn du anderes Material hast, zögere nicht es zu posten oder sende es uns, wir werden es gerne in den Artikel schreiben, mit einem Dankeschön.
Die serie der bestseller-Trine kehrt die magie des 2.5 D! Zusammen mit den drei legendären helden, nimm teil an der mission, die sie führt durch zauberhafte landschaften, märchen und rettet die welt von der finsternis der Fürst der Alptraum.
Die Cheats in unserem Besitz sind gültig für PC / PS4 / XBOX ONE / SWITCH und sie sollten alle gültigen sein, seit das Spiel herausgekommen ist, das ist 8/09/2019. Wir aktualisieren jedes Mal die Liste der Konsolen, wenn er Fügt der Liste einen neuen hinzu.
Entdecken Tipps, Cheats, Codes und Tricks für Trine 4: The Nightmare Prince (PC / PS4 / XBOX ONE / SWITCH): Unbegrenzte gesundheit und Super Sprung.
Trine 4: The Nightmare Prince hat auch einen Promo-Trainer verfügbar. Wenn du ihn während des Spiels herunterlädst und ausführst, erhältst du neue Features, normalerweise zusätzliche Cheats, die auf keine andere Weise verfügbar sind.
Am Ende dieser Seite können Sie die Liste der zu erreichenden Ziele für die entsprechenden Konsolen zusammen mit einer kleinen Erklärung, wie Sie sie erreichen können, lesen.
Lass uns weitermachen, um dir die Cheats nach der Einleitung, die wir gerade geschrieben haben, zu zeigen.